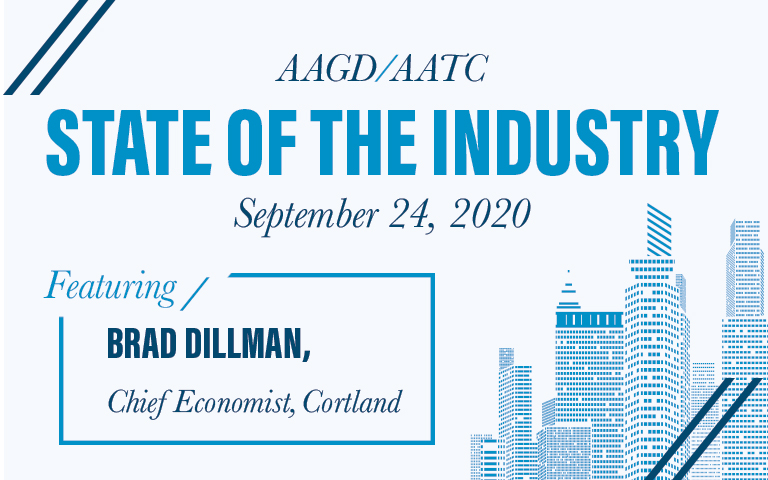 ANNUAL STATE OF THE INDUSTRY
September 24, 2020 | 12:00 PM - 1:30 PM
Cost: $40 per person
Event Location: Zoom Webinar
Registration Ends 9/23/20 at 5:00 PM CDT

Each fall, AAGD and AATC host the State of The Industry, providing an economic forecast for the Multifamily Industry. This forecast will provide insight into Multifamily trends and provide insight as you plan for 2021. This year our event will be hosted virtually to ensure the safety of our members. We look forward to you all participating.
Speaker:
Brad Dillman is the Chief Economist for Cortland. Brad supplies in-depth economic research, analysis, and forecasts to enhance executive and investment decision-making.
DIAMOND SPONSOR

EVENT SPONSORS
Apartments.com
Contractors Inc.
Fit Supply
FSI Construction
Reliant
Texas Southwest Floors
QUESTIONS?
For more information, contact Paula Kelley at pkelley@aagdallas.com.
GET EARLY ACCESS TO THE AAGD/AATC COMPENSATION BENEFITS REPORT!
As an added benefit of your registration to this year's State of the Industry you will receive early access to the 2020 AAGD/AATC Compensation and Benefits Report. A link to the report will be sent along with your confirmation email.