TAA 2022-2023 REDBOOK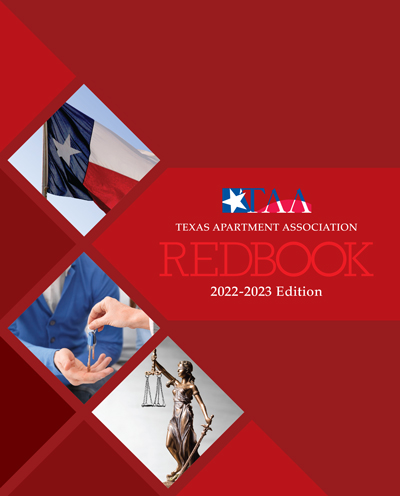 The 2022–2023 edition of the Texas Apartment Association REDBOOK is the most updated legal resource incorporating the most important legal, regulatory, and operational material information for Texas rental housing professionals.
The TAA REDBOOK is your roadmap through the twists and turns of legal and regulatory requirements for property owners and managers.
REDBOOKS are on Sale for $135 (Shipping and Tax not included). You will be billed for your REDBOOK order when the order ships, shipping rates vary by location.
Order 10+ Books, Get 10% Off!
Purchases of 10 OR more REDBOOKS are eligible for a 10% discount (MEMBER ONLY).
For more details regarding TAA Redbook Online CLICK HERE!
For more info contact:
Secilee Powell
(972) 739-9508
spowell@aagdallas.com