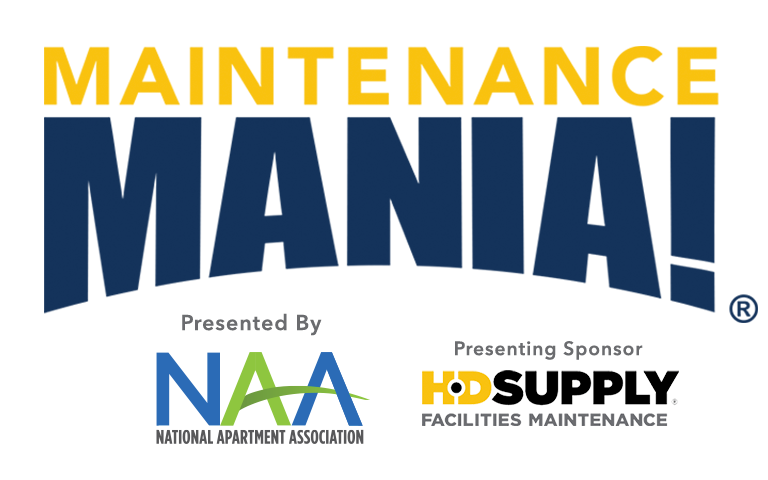 AAGD/AATC MAINTENANCE MANIA
Maintenance Mania is a national program offered by NAA and presenting sponsor HD Supply (HDS), in which maintenance technicians compete against each other in various skill-based games. Participate in our local event to earn your chance to compete at the national level!
There will not be a 2021 Maintenance Mania Event. The Competition is scheduled to return in 2022.
2020 EVENT RESULTS
National Championship Qualifying Program
| | | | |
| --- | --- | --- | --- |
| PLACE | NAME | MGMT CO. | TIME |
| 1st | Angel Diaz | Highmark Residential | 1:09.853 |
| 2nd | Victor Olascoaga | Highmark Residential | 1:20.448 |
| 3rd | Jason Wyles | Highmark Residential | 1:29.906 |
| 4th | Jacob Jackson | Highmark Residential | 1:29.827 |
| 5th | Michael Muscari | Highmark Residential | 1:31.434 |
| 6th | David Gamino | Lincoln Property Company | 1:52.761 |
| 7th | Juan Cardenas | Pinnacle | 1:52.09 |
| 8th | Collin Kaptain | Progress Residential | 2:05.351 |
| 9th | Frank Cantu | MAA | 2:08.521 |
| 10th | Tony Zenon | Busboom Group | 2:13.63 |
Water Heater
| | | | |
| --- | --- | --- | --- |
| PLACE | NAME | MGMT CO. | TIME |
| 1st | Mark Lopez | Camden | 0:10.404 |
| 2nd | Angel Diaz | Highmark Residential | 0:10.483 |
| 3rd | Michael Muscari | Highmark Residential | 0:11.347 |
A/C Repair
| | | | |
| --- | --- | --- | --- |
| PLACE | NAME | MGMT CO. | TIME |
| 1st | Mark Lopez | Camden | 0:10.404 |
| 2nd | Angel Diaz | Highmark Residential | 0:10.483 |
| 3rd | Michael Muscari | Highmark Residential | 0:11.347 |
Shock Treatment Setup
| | | | |
| --- | --- | --- | --- |
| PLACE | NAME | MGMT CO. | TIME |
| 1st | Angel Diaz | Highmark Residential | 0:09.227 |
| 2nd | Jason Wyles | Highmark Residential | 0:10.965 |
| 3rd | Victor Olascoaga | Highmark Residential | 0:13.560 |
Icemaker
| | | | |
| --- | --- | --- | --- |
| PLACE | NAME | MGMT CO. | TIME |
| 1st | Frank Cantu | MAA | 0:05.662 |
| 2nd | Donny Cuatt | Highmark Residential | 0:05.768 |
| 3rd | Michael Muscari | Highmark Residential | 0:05.790 |
Fire-CO Safety
| | | | |
| --- | --- | --- | --- |
| PLACE | NAME | MGMT CO. | TIME |
| 1st | Victor Olascoaga | Highmark Residential | 0:05.855 |
| 2nd | Donny Cuatt | Highmark Residential | 0:05.943 |
| 3rd | Angel Diaz | Highmark Residential | 0:06.692 |
Key Control
| | | | |
| --- | --- | --- | --- |
| PLACE | NAME | MGMT CO. | TIME |
| 1st | Victor Olascoaga | Highmark Residential | 0:09.494 |
| 2nd | Angel Diaz | Highmark Residential | 0:09.509 |
| 3rd | Jason Wyles | Highmark Residential | 0:10.707 |
Heating Element
| | | | |
| --- | --- | --- | --- |
| PLACE | NAME | MGMT CO. | TIME |
| 1st | Angel Diaz | Highmark Residential | 0:12.451 |
| 2nd | Jason Wyles | Highmark Residential | 0:12.606 |
| 3rd | Victor Olascoaga | Highmark Residential | 0:12.875 |
Race Car
| | | | |
| --- | --- | --- | --- |
| PLACE | NAME | MGMT CO. | TIME |
| 1st | Eric Navarro | American Landmark | 0:03.066 |
| 2nd | Zeferino Soto | Highmark Residential | 0:04.598 |
| 3rd | Angel Diaz | MAA | 0:04.63 |