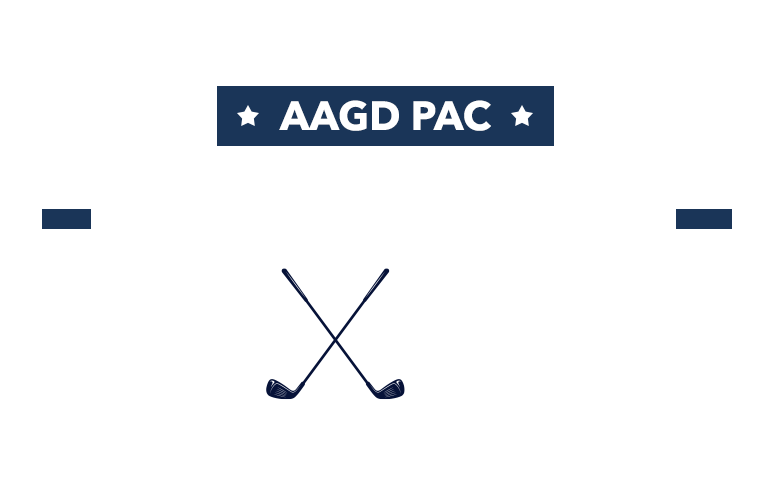 ANNUAL FALL GOLF CLASSIC
September 13, 2021 | 8 AM – 1 PM
Stonebriar Country Club
5050 Country Club Drive
Frisco, TX 75034
Join us yearly for the annual fall golf classic. Come out and enjoy a great day on the green by playing on a team or sponsor a hole. All team registration fees are contributions to the AAGD PAC. The AAGD PAC may accept payments from individuals or any entity that is not a corporation. Learn more about the AAGD PAC.
ABOUT THE EVENT
Each Fall the AAGD PAC host it's annual Golf Fundraiser. Teams are of four players that play a scramble.
Prizes Awarded for:
1st place team, 2nd place team, closest to the pin, and longest drive!
2020 INDIVIDUAL WINNERS
2020 TEAM WINNERS
1ST PLACE TEAM | SCORE -18
Sha Clayton, Jacob Jennings, Jacob Miles, Corey Greer
2ND PLACE TEAM | SCORE -15
Matt Mckee, Jim Finn, Scott Chrissey, Kevin Berry
3RD PLACE TEAM | SCORE -14
Gary Zelder, David Koenig, Mark Whitehead, Keith Hughes

PROTECTING OUR INDUSTRY
The purpose of AAGD PAC is to support candidates for political office by collecting voluntary contributions from AAGD members. AAGD PAC contributes to candidates of both parties who support the multifamily industry. Our Legislative Committee makes decisions to support elected officials based on a number of criteria. AAGD PAC is a political action committee that supports national, state, and local pro-rental housing industry candidates in the greater Dallas area.
past event photos
2020 Event sponsors
DUAL SPONSORSHIP CHALLENGE CUP/FALL GOLF SPONSOR
OnPoint Promotional Team

EXCLUSIVE PLAYER CART SIGN SPONSOR
Element Enterprises
PERSONALIZED GOLF CART SPONSOR
ApartmentData.com
Element Enterprises
LSR Multifamily
SCORE CARD SPONSOR
Grace Hill, Inc.
Highmark Residential
On Duty Tree Landscape
HOLE SPONSORS
Alpha 3 Renovations
AMLI Residential
AZ Partsmaster
Blue Ribbon Roofing
Brook Furniture Rental
Camp Construction
Centex Construction
FSI Construction
Impact Floors
Landmark Paint Supply
LumaCorp
Precision Appliance Leasing
Property Paving Inc.
Ramey King Insurance
Reliant
Rubaroc USA
Southwest Auto Tow
The Sherwin-Williams Company
Valet Living
WeDoTrash
LUNCH SPONSOR
Apartments.com
Green Mountain Energy
Rubaroc USA
PIN SPONSOR
Guardian Construction
PRESIDENT'S CART OR BEVERAGE CART SPONSORS
AZ Partsmaster
Madera Residential
The Phoenix Staffing, LLC
LONGEST DRIVE/
CLOSEST TO THE PIN
AALC
FIDUS Construction Services
Redi Carpet
Sponsorship has closed for the 2020 event. Find other sponsorship opportunities at the link below.
AAGD SPONSORSHIP OPPORTUNITIES
BACK TO TOP